Table of Contents
Xanax Rehab
According to the National Library of Medicine, Xanax, the brand name of the generic drug alprazolam, "is used to treat anxiety disorders and panic disorder (sudden, unexpected attacks of extreme fear and worry about these attacks)." The drug is necessary to the treatment of many individuals with this debilitating disorder, and it can be extremely beneficial when taken as prescribed by a doctor.
However, the abuse of Xanax can lead to dangerous consequences, addiction, and even death. Many individuals who begin abusing the drug are unable to stop on their own, causing the need for them to attend professional Xanax rehab programs.
Xanax Overview
Benzodiazepines, the drug class under which Xanax falls, are some of the most highly prescribed medications in the country. Because these drugs cause relaxation, calmness, and other desirable effects, many individuals abuse them, not realizing how harmful they can become. Euphoria can even be a side effect of taking abuse-level doses of the drug, but hostile behavior, extreme drowsiness, and dangerous levels of respiratory depression may also result. A study from the National Center for Biotechnology Information found in 2004 that "alprazolam was significantly more toxic than other benzodiazepines" in cases of overdose," another possibly severe consequence of the drug's abuse.
Whether you have been taking Xanax as prescribed and have only recently begun to abuse it or you have been abusing the drug's effects for a long period of time, you should attend a professional rehab program. This way, you can end your dependence on the drug and learn the skills you'll need to avoid further abuse in the future.
Don't Wait. Call Today To Get The Best Treatment Options
800-414-5013

Who Answers?
Types of Treatment
Inpatient and outpatient facilities both provide Xanax rehab treatment to those who need it. You will want to choose one of these two types of facilities depending on your needs. If you are experiencing problems with co-occurring disorders (especially anxiety-related problems for which you began taking Xanax), you should consider attending an inpatient program where you will receive 24-hour care. Also, for someone who lacks a strong support system at home, this type of treatment will also likely be necessary. Those who do not experience these issues may want to consider outpatient treatment.
Treatment methods like behavioral therapies and holistic modalities will often be the main treatment types available for Xanax rehabilitation. In most cases, medications are only used to minimize withdrawal symptoms and possibly anxiety problems if necessary.
Benefits of Holistic Treatment
Holistic treatment can play a large role in your overall recovery, especially if you choose a Xanax rehab facility that utilizes these methods as part of an all-encompassing program for each individual patient. Some potential holistic treatments that may help you stop abusing Xanax and make a positive change in your life include: meditation, yoga, Tai Chi, exercise, acupuncture, art therapy, and spiritual development and prayer.
One benefit of these treatments is that many of them can help minimize your anxiety issues, which likely helped cause your use and abuse of Xanax in the first place. Methods like meditation, yoga, Tai Chi, and spiritual guidance can help promote self-confidence and relaxation, as well as concepts and practices that you can use when you feel yourself becoming anxious. In addition, these methods may also help curb your cravings for Xanax.
Many individuals who become addicted to prescription drugs are wary of further pharmaceutical use to end their addictions. Because there aren't any specific medications that treat benzodiazepine addiction (unlike opioid addiction), the use of holistic modalities can be helpful in treating the addiction when pharmaceuticals cannot. Also, because these methods are largely naturopathic, they do not cause intense side effects for the most part, the way medications are more likely to do. In many ways, the use of holistic treatments can be very favorable to your recovery from Xanax abuse.
Should I Choose Holistic Treatment?
Choosing a program that implements both holistic methods and behavioral therapy can be very helpful and attend to many of your needs. Both of these treatment types can be beneficial in treating your anxiety issues as well as your addiction syndrome and provide a way for you to express yourself during rehabilitation.
Even if you are not experiencing co-occurring mental disorders or lack a strong support system, it may be important for you to attend inpatient treatment, at least at the beginning of your recovery and especially if you are still dependent on the drug. According to the Semel Institute for Neuroscience and Human Behavior, Xanax withdrawal can sometimes be dangerous and possibly cause symptoms such as "depersonalization, anxiety, depression, hypersensitivity, physical tremors, and sleep disturbances… In rare cases, withdrawal from the drug can also result in psychosis and convulsions." Therefore, if you are unsure as to how your body may react to Xanax withdrawal, consider attending inpatient treatment in order to have around-the-clock care from medical professionals in case of a severe reaction.
You should always choose the treatment facility that makes you feel comfortable and safe, but holistic, inpatient rehab may be particularly beneficial to you after long-term Xanax abuse.
How Long Will Xanax Rehab Take?
"Benzodiazepine addiction can be difficult, especially when it stems from a desire to relieve symptoms of anxiety or other mental health conditions." If this is the case for you, you may want to consider attending a long-term rehab program. Some facilities allow patients to stay for a year or more, especially when there is a situation of dual-diagnosis (or co-occurring mental disorders). However, it is important that, even if you do not need long-term treatment, you refrain from leaving your rehab program early.
Successful recovery is linked to adequate treatment length, and those who leave unprepared are often not able to avoid the issues of relapse and other problems associated with addiction recovery. In general, according to the Center for Disease Control, "Participation in outpatient or residential programs for less than 90 days is of limited or no effectiveness." Under this rule, your rehab program should last at least 90 days or more, but your recovery process in general may last far longer.
What to Expect in Xanax Rehab
Xanax rehabilitation is a highly individualized process, and when you arrive at the facility, your doctor will examine you, ask questions, and perform tests in order to find out what your current state of health is and whether or not you are still dependent on Xanax. A personalized treatment program will be set up to fit your needs, but in the event that your needs change during treatment, as they often will, your program will be tweaked or changed as necessary to reflect your growth and recovery.
According to the Semel Institute, "Treatments for benzodiazepine addiction generally begin with a slow detoxification process, eventually weaning a person away from the effects of the drugs while attempting to decrease the severity of the symptoms of withdrawal." Often, other benzodiazepines will be used to do this or decreasing amounts of Xanax. In some cases, other medications may be used. It is not recommended that you attempt to detox from the drug without any type of tapering process, but this will be done safely under the care of doctors, nurses, and other professional caregivers.
Your withdrawal process may last a week or longer, depending on the facility and their policies. Once you have detoxed and are no longer dependent on the effects of Xanax, you can begin working on your addiction to the drug. Behavioral therapies will teach you a new way of viewing the medication and your addiction to it, as well as coping mechanisms, tips for fighting cravings, and how to recognize triggers. You will also receive help for any anxiety issues you may be experiencing. Holistic treatments can add another layer to your rehabilitation and help you see the world, yourself, and your drug use in a new light.
What Does Xanax Rehab Cost? Is Insurance Accepted?
Typically, insurance is accepted by most rehabilitation centers, and your treatment will be at least partially covered by your insurance plan. According to the Office of National Drug Control Policy, "The ACA [Affordable Care Act] includes substance use disorders as one of the ten elements of essential health benefits." However, different providers and different facilities have their own rules about how much an insurance plan will cover, so it is important that you contact your provider as well as the facility of your choice to find out what these policies entail before you make a decision.
Certain facilities and programs that provide rehabilitation, detox, and other necessary treatments for Xanax addiction are expensive while others are quite affordable. If you are looking for a less costly option, there are low-cost and even free facilities in your area, often specifically meant for those who need them the most. If you can provide proof of a low income or another financial issue that is keeping you from affording the treatment you need, many facilities will work with your financial situation. While some provide completely free treatment, others will allow you to pay a nominal fee or institute a payment plan.
There are other programs that provide luxury Xanax rehab to those who can afford it, and if you are looking for the most comfortable way to recover from addiction, this is it. However, your financial situation should be taken into consideration before you choose a rehab facility, and you should make sure the program of your choice fits your budget.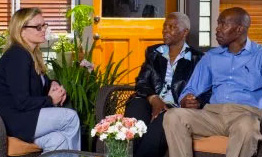 Call 800-414-5013 Today
Who Answers?
Where Should I Go for Help?
Your personal physician will likely know of a rehab facility where you can get help, especially if you received the medication through their care. In addition, you can also ask friends and family members who want to see you stop abusing Xanax and return to your old self to help you find treatment programs in your area.
There are plenty of places you can go to for help, including your local outreach center, your city government building, a hospital, or a clinic in your area. Employees in these facilities have often recommended rehabilitation centers to individuals before and will be likely to help you as well. Attending support group meetings can also be a way to meet knowledgeable individuals who have been through what you're dealing with and have advice on where to find the right treatments. In addition, if you are looking for a holistic program, talk to someone you trust who is well-informed about the method you seek, such as your yoga instructor, a spiritual guide or counselor, or your herbalist.
Xanax Recovery- What Happens Next?
The end of your rehab program does not mean the end of your recovery from Xanax addiction. You should consider aftercare treatment, something your doctor will likely discuss with you at the end of your program.
In many cases, it is important and beneficial to follow up inpatient treatment with an outpatient program; "these programs help to reduce the risk of relapse once a patient leaves the residential setting," according to the National Institute on Drug Abuse. However, you may decide to stay in another residential program, like sober living house, that still provides a drug- and alcohol-free atmosphere but has fewer rules than inpatient rehab, allowing residents to pay rent, work, and come and go as they please.
Another possible option for aftercare involves attending support group meetings for individuals who have abused prescription drugs. These meetings can easily fit into your daily schedule but still help remind you of your commitment to sobriety. Some individuals even continue their holistic methods, such as yoga, Tai Chi, or meditation, by attending classes and setting their intention on continued relapse prevention and a strong recovery. No matter what, it is important to remind yourself that your recovery is an ongoing process and that you can remain sober as long as you stay on the right path.
Make a Change; End Your Xanax Abuse Today
Xanax abuse can be physically and mentally harmful, corrosive to the important aspects of your life, and even deadly in certain instances. For these reasons, it is important that you end your misuse of the drug as soon as possible. Call our hotline today, find a rehab program that fits your needs, and change your life for the better. Call 800-414-5013 Who Answers? toll free anytime for help finding treatment.