Table of Contents
Suboxone Rehab
Suboxone is a prescription medication that contains both the drugs buprenorphine and naloxone. According to the National Library of Medicine, "The combination of buprenorphine and naloxone prevent withdrawal symptoms when someone stops taking opioid drugs by producing similar effects to these drugs." Even though Suboxone is prescribed to treat the very condition of opioid addiction (and is an available treatment in many rehabilitation facilities and doctor's offices), it can also be abused and cause addiction itself. Just like with other opioid drugs, an addicted individual will need to attend rehab for Suboxone addiction and learn to stop abusing the medication with the help of skilled medical professionals and a number of treatment methods.
Suboxone Overview
Buprenorphine is a partial opioid agonist which means, when abused, it can cause many of the same side effects that full opioid agonists cause such as euphoria, relaxation, and pain relief. If addicted individuals are able to get ahold of a large amount of Suboxone as part of their opioid addiction treatment plan or if these drugs are sold to them illegally, there is a strong chance that those individuals can become addicted to Suboxone as well.
Patients in treatment are often able to take home Suboxone, which can lead to abuse of the drug. However, naloxone, an opioid antagonist, was added to the medication to attempt to avoid this issue. Naloxone precipitates withdrawal in those who crush Suboxone tablets, a common practice among drug abusers. Still, many recovering addicts attempt to get high from Suboxone (if only because they have access to it). This can lead to further abuse and even addiction.
According to the U.S. Food and Drug Administration, "Like other opioids, Subutex and Suboxone have been associated with respiratory depression (difficulty breathing) especially when combined with other depressants." Unfortunately, the U.S. Department of Justice states, "Large percentages of the drug abusing populations in some areas of France, Ireland, Scotland, India, Nepal, Bangladesh, Pakistan, and New Zealand have reported abusing buprenorphine by injection and in combination with a benzodiazepine." This can be extremely dangerous and even deadly in some cases.
For all of these reasons, Suboxone addiction is just as dangerous and problematic as other types of opioid addiction, which is why an individual abusing the drug needs to attend rehab.
Don't Wait. Call Today To Get The Best Treatment Options
800-414-5013

Who Answers?
Types of Treatment
For Suboxone addiction, you may decide to attend either outpatient or inpatient treatment. The former program allows patients to visit the facility (usually daily) while the latter requires that patients stay overnight for the duration of their treatment. Both have benefits, but inpatient treatment is often more helpful to those individuals who
Require 24-hour care and/or surveillance
Require a controlled environment, free of the temptation to abuse drugs
Have comorbid mental disorders such as depression, PTSD, anxiety disorders, bipolar disorder, or others that may be affecting their addictive behavior
Lack a strong social support system at home
Medications can be used to manage withdrawal and/or other symptoms the individual may be experiencing, but behavioral therapies and holistic modalities may be much more beneficial for Suboxone addicts.
Benefits of Holistic Treatment
Holistic treatment could be a very beneficial choice for you if your Suboxone treatment plan ended in more addiction issues. Many individuals who do experience these problems decide to use holistic methods instead of medications to minimize withdrawal symptoms and reduce stress because they do not want to risk the possibility of becoming addicted to another medication. Methods such as herbal therapy, meditation, yoga, acupuncture, and other types of naturopathic medicine can decrease the need for medication during withdrawal and rehabilitation and even replace pharmaceutical treatments in your personalized plan altogether.
Another benefit of holistic treatments is that, generally speaking, they have fewer side effects than most medications. According to the Substance Abuse and Mental Health Services Administration, "Side effects of buprenorphine are similar to those of other opioids and include nausea, vomiting, and constipation," and the naloxone in Suboxone also precipitates withdrawal, another problematic side effect of the drug. Because many holistic treatments are natural, they do not cause as many severe side effects as Suboxone or other medications meant to treat opioid addictions.
These treatments may also allow you to discover a new side of yourself or an activity that you truly enjoy. Yoga, exercise, Tai Chi, art therapy, dance therapy, and spiritual development can all help you become more fulfilled and lessen your need for drugs. In addition, facilities that provide holistic treatments are also more likely to offer vocational, legal, and nutritional help in order to treat your whole self, not just the present symptoms of your addiction to Suboxone.
Should I Choose Holistic Treatment?
Because Suboxone addiction often occurs in individuals who are already trying to quit abusing opioids, a stricter treatment program may need to be chosen. According to the National Drug Intelligence Center, "Buprenorphine can be prescribed by a local doctor and obtained from a local pharmacy," unlike some medications which can only be obtained from a federally licensed treatment facility. Therefore, if you have experienced Suboxone abuse and addiction after attempting a less intensive form of rehabilitation, you may want to choose inpatient rehab for your Suboxone addiction treatment.
If you do decide to stay at an inpatient facility, you may find that you struggle less to avoid opioid abuse and that you will be able to attain a stronger recovery before you enter back into your daily life. However, some individuals may still decide to attend outpatient treatment, which can be beneficial if you have a strong support system at home and no co-occurring mental disorders.
Holistic treatment is also a good choice for Suboxone addicts who want an alternative method to pharmaceutical treatments and who are looking for a way to strengthen their recoveries. Especially if you feel that Suboxone as a treatment was not beneficial to you, or caused too great of a temptation, alternative methods like those listed above (along with behavioral therapy) can be a perfect choice for you.
How Long Will Suboxone Rehab Take?
If you have been abusing other opioid drugs in addition to Suboxone, it may be necessary for you to stay in treatment for a prolonged amount of time. The general belief is that treatment lasting at least ninety days is more effective than programs that end before this time, but you may want to consider attending a six-month-to-a-year-long program. This may allow you to become more in control of your addiction, and if you decide to stay at an inpatient facility, you can reflect on your healing for an ample amount of time before attempting to reenter your regular life.
Different rehab programs will last for different amounts of time, but if you have previously attended rehab and experienced issues with Suboxone abuse, it may be important to consider attending a longer, more structured program this time.
What to Expect in Suboxone Rehab?
In Suboxone rehab, your caregivers will start by examining you and performing a series of tests in order to find out the current state of your health and what treatments you will require. If you have already attended a rehabilitation program in the past or received Suboxone through a doctor's care, the physicians at the rehab facility will need to know the particulars of your treatment history. Once you and your doctor have discussed your needs and current condition, a treatment plan can be created, one that is individualized for your needs.
If you are still dependent on Suboxone, your doctor may choose a number of methods to help you withdraw from the drug safely and effectively. In some cases, medication may be applicable, but if you decide you would prefer not to use pharmaceuticals, certain facilities may use holistic treatments. You will likely begin a therapeutic regimen as well that allows you to explore the reasons for your drug abuse and learn better coping skills.
At a Suboxone rehab center, the doctors, nurses, therapists, and other practitioners will understand that you are in need of help in order to stop abusing opioid drugs. You will receive care that is catered to your needs as well as informed of your own particular situation. It is important for you to also feel comfortable in the facility, especially if you are going to be sleeping there.
What Does Suboxone Rehab Cost? Is Insurance Accepted?
Many Suboxone rehab facilities accept insurance, although the extent to which you plan will pay for the entire program depends on your provider and on the facility. It is important to call and ask these questions before you decide to attend a particular program. In addition, each facility has its own rates as well as its own payment plans offered to potential patients.
Some facilities provide low-cost care or treatment that can be paid for on a sliding scale. Others may provide treatment completely free of charge, but in most cases, you must show proof that you are in need of this particular treatment type (either proof of low income, financial debts, or another clear basis for need). Those who are looking for a more luxurious experience and are willing to pay for additional comforts can find treatment facilities that provide hotel-like accommodations, amenities, and other benefits, as well as more high-end treatment options. Attending one of these private facilities is not necessary to recovery, but it can make the process much more relaxing.
Overall, you should consider your particular budget and your needs before choosing a facility and make sure that the program you do choose fits those requirements. Suboxone treatment comes at many different costs, and there are a number of facilities that will fit your financial plan.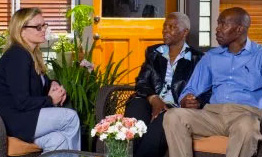 Call 800-414-5013 Today
Who Answers?
Where Should I Go for Help?
If you have been abusing your prescription of Suboxone, it is important to tell your doctor. They will likely be able to find a program that fits your needs and will help you stop abusing this dangerous drug. However, other individuals may be able to help you find a rehab facility as well.
Friends and family members who love you and want you to recover from your addiction will be indispensible to your overall recovery and can help you look for a facility that fits your needs. You may also want to consult with your spiritual counselor, herbalist, or another practitioner who could help you find a holistic program in your area. In addition, doctors and nurses at your local free clinic can help you find low-cost or no-cost facilities, as they will have likely referred other patients there before.
Our hotline is also available if you require immediate assistance. We can help you find treatment facilities in your area and start your journey toward sobriety from Suboxone abuse.
Suboxone Recovery- What Happens Next?
After you have completed your Suboxone rehab program, it may be necessary for you to attend support group meetings, stay in a sober living house, or transition into outpatient treatment. This will help remind you that addiction is a chronic disease that requires your constant work and conviction in order to avoid the possibility of relapsing back to drug abuse. After your rehab program has ended, you will likely be referred to an aftercare program by the doctors and nurses at your rehab center, and these programs can be indispensible to your continued recovery.
Once you feel that you have become more stabilized, it can be beneficial for you to gradually return to your life: school, work, etc. However, if you feel tempted to abuse Suboxone or other opioid-based drugs, make sure that you have a plan for how you will handle the issue. Attending aftercare programs can be a great way to help you with these feelings of temptation, and knowing whom in your life you can count on (friends, family, coworkers, etc.) will be necessary for your continued safe and successful recovery.
Begin Your Rehab Now
If you have been abusing Suboxone as a substitute for other types of opioid abuse, there is a possibility that you are already becoming addicted to the drug. The longer you continue to abuse it, the stronger the chances are that you will experience severe consequences. Don't wait; begin your rehab program now, and stop your abuse of Suboxone. Call 800-414-5013 Who Answers? toll free anytime for help finding treatment.