Table of Contents
Painkiller Rehab
Painkiller is a blanket term for any prescription opioid medications used to treat mild to severe pain. Also called narcotics, these drugs can be beneficial, and sometimes even necessary, to individuals struggling with serious discomfort. However, they can also be addictive. A person who has been abusing prescription painkillers can experience extreme consequences as a result of their drug use, and rehabilitation is often necessary before the individual can stop abusing these drugs and begin to recover.
Painkiller Overview
According to the Drug Enforcement Agency, "Besides their medical use, narcotics/opioids produce a general sense of well-being by reducing tension, anxiety, and aggression. These effects are helpful in a therapeutic setting but contribute to the drugs' abuse." When people abuse painkillers heavily, the drugs can cause health issues such as constipation, physical dependence and withdrawal symptoms, nausea and vomiting, respiratory depression, and in some cases, death. Addiction develops quickly and users are often unable to stop taking these drugs on their own.
In order to break the cycle of abuse and to avoid the consequences of painkiller addiction, professional rehab is necessary for many individuals. These programs can help patients stop their dangerous abuse of opioids and learn to make better choices that allow them to live a happier, healthier life.
Don't Wait. Call Today To Get The Best Treatment Options
800-414-5013

Who Answers?
Types of Treatment
Understanding the different types of treatment available for those in opioid rehab will help you make an informed decision about the facility in which you choose to start your recovery. There are two major types of treatment centers: inpatient and outpatient.
Inpatient programs allow patients to stay overnight for the duration of their treatment and provide 24-hour care to those who need it. These programs also offer a controlled environment in which patients can avoid the temptations of drug abuse. Patients with other comorbid mental disorders (such as depression, anxiety, PTSD, schizophrenia, etc.) often fare better in these programs, as well as do those individuals who lack a strong support system at home.
Outpatient programs, on the other hand, only require patients to attend treatment at the facility and do not provide 24-hour care. According to the National Institute on Drug Abuse, "Such treatment costs less than… inpatient treatment and often is more suitable for people with jobs or extensive social supports." Different programs can offer different levels of care, however, so it is important to research any facility before you decide to receive treatment there.
Most rehabilitation treatment techniques can be broken into three categories:
Behavioral therapies (such as cognitive-behavioral therapy, contingency management, group therapy, and motivational enhancement) that help patients reestablish positive behavior and learn techniques for controlling cravings and stress
Medication (such as naltrexone, methadone, and buprenorphine) that reduce the severity of withdrawal symptoms and the intensity of cravings for opioids
Holistic methods (such as meditation, yoga, herbal therapy, nature walks, art therapy, Tai Chi, and/or spiritual healing, among others) that give patients another avenue toward healing
While some rehabilitation centers only provide traditional treatments methods, many have included holistic methods because of the wonderful benefits they provide for patients recovering from addiction.
Benefits of Holistic Treatment
There are many advantages to holistic treatments, especially as a part of a full painkiller rehab program. For one, holistic methods focus on treating the whole individual, not merely symptoms they experience, which can lead to a much more self-fulfilled and self-aware experience during recovery. Many individuals who receive holistic treatments feel that it gives them another level to their healing and helps them make changes traditional treatments could not have caused.
Another benefit concerns the fact that many individuals struggle with stress and anxiety after quitting their painkiller use. According to the National Library of Medicine, anxiety is one of the early signs of opioid withdrawal, and this issue can persist even after the initial withdrawal symptoms have ended. Methods like meditation, prayer and spiritual guidance, Tai Chi, yoga, acupuncture, and even exercise can cause a tremendous stress relief for patients and allow them to focus on their healing by letting go of anxious feelings in a calming, natural way.
In addition, many patients who are apprehensive about using medication to treat stress, anxiety, cravings, and withdrawal symptoms during painkiller rehab often prefer these methods. Drugs like methadone and buprenorphine can be abused in some instances, and certain patients become concerned about the possibility of becoming dependent on another medication. With the use of many of these holistic methods, medication can be eradicated from an individual's treatment plan. However, some individuals prefer to use all three methods together, medication, behavioral therapy, and holistic treatments, to create a well-rounded plan.
Should I Choose Holistic Treatment?
If you are interested in the concept of holistic treatment, it could be a wonderful choice for you during your rehabilitation. It is important to be able to embrace a certain practice but also to recognize if you are not personally benefitting from it. Just as the NIDA states, "No single treatment is appropriate for everyone," and the holistic (or even traditional) methods someone else chooses may not be applicable to you. The most important aspect of your treatment choices is whether or not they work for you; if one method does not, another might.
Many inpatient facilities offer holistic treatments, but unless you need round-the-clock care or you do not have anyone to care for you at home, you may want to choose an outpatient program. The latter are often less expensive, and unless you specifically need to be in residential care, you may be paying for something unnecessary. However, every individual is different, and you may find an inpatient program that makes you feel safe and comfortable.
Choose the facility, the program, and the treatments that are most beneficial to you. If you do so, you will experience a stronger recovery because you will feel comfortable and supported in your program.
How Long Will Painkiller Rehab Take?
As stated by the NIDA, "Good outcomes are contingent on adequate treatment length." Therefore, it is important for patients to stay in treatment for the necessary amount of time and not to leave early. Even if you feel like you are progressing, it is always important to stick to a timeline that you and your doctor agree upon. Your program and its methods will change, of course, to grow with your progress, but leaving treatment early can often lead to relapse and other issues. According to the NLM, "Most opiate overdose deaths occur in persons who have just withdrawn or detoxed [but have not finished addiction treatment]."
The length of each treatment program for painkiller rehab is different. For example, some programs may last as little as three weeks while others may last a year or longer. In general, the most effective timeline is a program that lasts at least ninety days or more, and most programs that last fewer require follow up treatment. Although it may seem like a long journey, it is a necessary one to make in order to end your abuse of opioids and start a better life.
What to Expect in Painkiller Rehab?
At the start of your program, your current state will be analyzed so your doctor can know what you require in terms of care. They will determine whether or not you are still dependent on opioids, whether you will require treatment for your physical and mental health, and what treatment methods will best benefit you. Then you will receive a personalized treatment program that will guide you through your recovery.
In most instances, individuals in painkiller rehab start with detoxification. Medications like clonidine, methadone, or buprenorphine may be used to minimize withdrawal symptoms as well as certain holistic methods like herbal therapies, homeopathic remedies, or meditation. According to Harvard Medical School, "By itself, [detox] is not a solution, because most addicts will eventually resume taking the drug unless they get further help." After detoxification is complete, patients will receive the further help necessary to stop abusing opioids.
Behavioral therapies help patients learn how to engage in more positive, safer actions that do not include dangerous substance abuse, as well as better ways to cope with stress, triggers, and cravings. They will also learn how to anticipate dangerous situations in which they might abuse drugs and how to avoid them. Holistic treatments can be used to allow patients the ability to express themselves in a new way and to become involved in activities that benefit the mind, body, and soul.
You will receive help from a dedicated staff of doctors, nurses, therapists, holistic practitioners, and other individuals who want to see you succeed. Rehabilitation will give you time to reflect on how you can make the necessary changes in your life that will help lead to your sobriety and the strength and skills to avoid drug abuse once you have left the program.
What Does Painkiller Rehab Cost? Is Insurance Accepted?
The cost of painkiller rehab varies greatly from program to program. While some high-end facilities exist that provide luxury treatment to patients, others may provide treatment at little to no cost, some even asking that only individuals who truly need free treatment apply. Insurance can often be used as a form of payment, but it depends on the individual program and your insurance provider as to how much of the center's cost your plan will cover.
Before you choose a rehabilitation center to attend, call and discuss your payment plan with someone at the facility. Ask questions, such as:
What is the general cost for treatment at your facility?
Do you accept insurance, and if so, which providers do you accept?
How much of your program would my plan cover?
Do you have a sliding-fee scale for the remaining payment?
In some cases, money is no object, and the comforts of luxury rehab can be very pleasant. However, drug addiction often causes financial issues, and painkiller abuse can be very expensive for those who buy the substances illegally. If you are in need of free or low-cost treatment, there are facilities for you.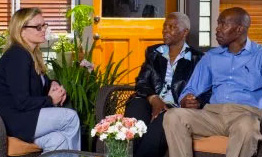 Call 800-414-5013 Today
Who Answers?
Where Should I Go for Help?
Many people in your community are available to help you find the treatment you need and begin your recovery the right way. According to the NIDA, "Family and friends can play critical roles in motivating individuals with drug problems to enter and stay in treatment." Your loved ones can also help you find facilities in your area where you may decide to attend painkiller treatment.
In addition, your personal physician, doctors and nurses at free clinics, and volunteers at community outreach centers are also often knowledgeable about rehab centers in your area. If you are specifically looking for a holistic option, discussing the issue with your spiritual counselor, herbalist, or homeopathic physician could help you find a program with the type of holistic treatments you are looking for.
If you decide to attend rehab out of your city or even out of your state, this can also be a beneficial option for you. Internet databases and government websites often provide treatment information by location, and you can call our hotline in order to talk to someone about choosing the right treatment program and making a positive change toward recovery.
Painkiller Recovery- What Happens Next?
Addiction is a disease, which means that even when one rehab program has ended, you are not free of the addiction. In many cases, your caregivers will help you find another program where you may attend aftercare as you gradually transition out of treatment. Inpatient programs often refer their patients to outpatient programs, or you may also decide to attend a support group like Narcotics Anonymous or Smart Recovery. As you continue your recovery after rehab, you will begin to experience a better life every day where your addiction becomes something you can control, not something that owns you.
Make a Change Today
Opioid abuse is dangerous and continuing to misuse these drugs will only lead to more problems in your life. If you have decided to attend painkiller rehab, find the right program for your needs and turn your life around. Recovery starts with the admission that you need help and the refusal to let drugs continue to run your life. Call us today and find a rehabilitation center that fits your needs; you'll be glad you did.