Table of Contents
OxyContin Rehab
OxyContin is a prescription medication containing oxycodone, a powerful opioid drug used to treat pain. The drug can also cause euphoria, relaxation, and other effects when taken in large doses, leading to its high levels of abuse. According to the National Library of Medicine, "Oxycodone [and OxyContin] may be habit-forming," which is why users are discouraged from abusing the drug's effects. It is also a Schedule II Controlled Substance by the Drug Enforcement Agency. Still, OxyContin addiction is common, and many individuals require treatment for the disorder in a professional rehab facility.
OxyContin Overview
As stated by the National Drug Intelligence Center, "Individuals of all ages abuse OxyContin––data reported in the National Household Survey on Drug Abuse indicate that nearly 1 million U.S. residents aged 12 and older use OxyContin nonmedically." The drug, also called by its street names blue, kicker, and oxycotton, can be just as addictive and deadly as heroin, especially if an individual abuses it often.
OxyContin addiction can erode a person's entire life, which is why it is necessary for an individual in this situation to attend a rehab program. With the help of trained medical professionals, a number of diverse treatment methods in a program designed specifically for the individual, and a realistic recovery timeline, addiction to this medication can be managed, and addicted individuals can learn to change their behavior and make healthier choices.
Don't Wait. Call Today To Get The Best Treatment Options
800-414-5013

Who Answers?
Types of Treatment
There are two types of rehab facilities where an individual can receive OxyContin addiction treatment: an inpatient facility and an outpatient facility. Individuals who need constant supervision and a controlled environment will benefit from inpatient treatment; these facilities often allow family members and friends to visit, but the patient sleeps at the center in order to be away from temptation and to be monitored for any other issues associated with their addiction.
Outpatient programs allow patients to visit the facility in order to receive their treatment but still live their daily lives by being free to work, attend school, and plan other activities around their treatment. Someone attending an outpatient facility should often be living with a trustworthy individual, though, instead of alone, in order to have a higher chance of being successful in the program.
Both facility types often utilize the same general treatments for patients addicted to OxyContin and other opioid drugs. These treatments include:
Medications: methadone, buprenorphine, or naltrexone
Behavioral therapies: contingency management, cognitive-behavioral therapy, group therapy, and/or others
Holistic treatments: yoga, exercise, spiritual healing, art/dance therapy, acupuncture, meditation, nature walks, nutritional classes, etc.
Medications are often used to minimize cravings and withdrawal symptoms as well as to help an individual reestablish normal brain functions. Behavioral therapies, "the most commonly used form of drug abuse treatment" according to the National Institute on Drug Abuse, help patients change their behavior and the way they view their drug abuse. Not all facilities offer holistic treatments, but these can be extremely beneficial for OxyContin recovery, especially as part of an overall rehabilitation program.
Benefits of Holistic Treatment
While medication and behavioral therapy are two of the most commonly used treatments in OxyContin rehab, holistic methods can be highly beneficial to many patients, especially on an individual level. Most of these treatments, like spiritual guidance, dance/art therapy, yoga, and meditation, are not guaranteed to work for every patient. However, certain patients may find a new activity that is very valuable to their overall recovery in its ability to
Provide them with a new way to express themselves
Create interest in an activity that is safer and more constructive than drug abuse
Channel feelings of frustration, stress, and other negative emotions into positive actions
Promote creativity, tranquility, and a number of other positive concepts
In addition, a study from the National Center for Biotechnology Information states that holistic treatments can be used to "help patients develop a stronger sense of self-identity, self-esteem, and self-confidence." Not only is this beneficial for the view patients have of themselves but also for preventing relapse: those who feel happy, confident, and strong in their sense of self will be more likely to adhere to their convictions and refuse to give into the temptation to abuse OxyContin, often caused by triggers and cravings.
Holistic treatments can help individuals experience stronger recoveries but can also help them become happier, more self-fulfilled people. In addition, facilities that utilize holistic treatment can even encompass programs that help patients solve issues caused by their drug abuse in order to support them in reestablishing their lives. These methods, like vocational counseling for those who have lost their jobs, nutritional counseling for those who have experienced issues with undernourishment, and legal help for those in trouble with the law, provide all-encompassing treatment for patients of OxyContin rehab.
Should I Choose Holistic Treatment?
Holistic treatment is a positive choice for someone who has been abusing OxyContin. In many cases, an individual may be able to attend a facility that does not use medication but instead uses techniques like meditation to treat issues of cravings and withdrawal symptoms. However, many facilities that provide holistic treatment also provide medication and behavioral therapies.
In most cases, a balance between traditional and holistic methods is not only effective but necessary. Holistic treatments allow patients to open up in new ways while traditional treatment procedures provide patients with the kind of help they may need to be able to focus in on these new concepts. Most holistic facilities provide a program that is unique to each individual and attends to patient needs, no matter what they are.
The choice of whether or not to attend inpatient or outpatient treatment, however, depends entirely on the individual and their condition. Someone who needs to be in a controlled environment, receive 24-hour care, or be removed from the possibility of temptation may need to attend inpatient rehab. In addition, those who are struggling with co-occurring mental disorders like depression, anxiety disorders, and other issues in addition to their addiction should also attend inpatient rehab. If you are not experiencing any of these issues and also have a friend or family member who can look after you for the duration of your treatment, outpatient rehab will likely be a beneficial choice.
How Long Will OxyContin Rehab Take?
OxyContin rehab usually takes the same amount of time as other opioid addiction rehab programs. While detox can require up to a week or so, patients usually should stay in treatment for about 90 days in order to receive the full benefits of the program. However, different programs can have different lengths. According to the NIDA, "For methadone maintenance, 12 months is considered the minimum, and some opioid-addicted individuals continue to benefit from methadone maintenance for many years."
Unfortunately, some programs offer treatment for fewer than 90 days or only accept certain types of payment for a certain period of time. It is important to know how long you will be expecting to stay in your rehab program before you decide to attend and what the general length of stay is for patients at that facility. In general, a regular OxyContin rehabilitation program, one that does not require methadone maintenance, will usually last between 30 and 90 days.
What to Expect from OxyContin Rehab
In OxyContin rehab, it is important to know what to expect. The treatment process will usually begin with an analysis of your condition with several different tests, followed by a consultation with a doctor in which your personalized treatment program will be created. Then, you will start detoxification unless you have already withdrawn from the medication. Sometimes, detox takes longer than the normal week-long timeline, but this depends on the facility.
After detox has ended, you will begin your counseling sessions as well as your holistic treatments. It is easier for patients to focus on these methods after the cravings and symptoms associated with withdrawal have subsided somewhat. Doctors, nurses, counselors, and other professional caregivers and practitioners will be present to help you through your journey of rehabilitation, and depending on the facility you choose, you may leave every day at the end of treatment or stay overnight.
What Does OxyContin Rehab Cost? Is Insurance Accepted?
Rehabilitation can be expensive, but it often depends on the program you choose. Many private OxyContin rehab facilities offer amenities similar to those at a hotel as well as gourmet meals, high-end accommodations, spa privileges, and other luxurious upgrades. If you are concerned about money, there are a number of facilities that offer low-cost or even free treatment to those who need it. According to the Substance Abuse and Mental Health Services Administration, four percent of all substance abuse treatment facilities in the country offer treatment completely free of charge to individuals in need.
Insurance is an accepted form of payment at most rehabilitation facilities; however, it will not always pay for the full extent of your treatment. You should discuss payment with someone at the facility before you decide to stay and ask whether or not they accept your personal insurance, how much of their fee will be covered by it, and if they provide any sliding-fee scales for payments as well.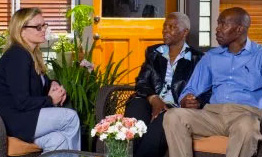 Call 800-414-5013 Today
Who Answers?
Where Should I Go for Help?
Chances are you already know many people who want to help you find the right rehab facility and OxyContin treatment program. Friends and family members who have your best interests at heart are likely to want to help you find the right facility for your needs and to be engaged in your recovery. They can help you search Internet databases and government websites for facilities in your area that will be beneficial to you.
In addition, you can also ask your personal physician for help in finding a rehab program. Your doctor knows you and, as a result, will often be able to suggest a facility in your area that will provide the right kind of treatment for you. Individuals working at a free clinic, an outreach center, or even a government office in your area will likely know of facilities nearby where you can find treatment. If you are looking for spiritually based rehab, talk to someone at your church about your options. Asking for help is important and it will allow you to find out more about the programs available to you and the ways in which you may start to heal.
OxyContin Recovery- What Happens Next?
After a rehab program has ended, it is important that the individual feels strong and ready to transition back to everyday life. In order to help with this, your doctor may suggest an aftercare program to you. Many people who attend inpatient treatment transition into an outpatient program afterward, in order to gradually work their way back to a more stable way of life. However, some individuals choose to stay with friends and family members or in a sober living house, a facility where residents can avoid drug and alcohol use in a sober home but still work, attend school, and come and go as they please.
Another option for aftercare involves joining a support group. According to Harvard Medical School, "Mutual aid groups for opiate addicts follow the same lines as those established earlier for alcoholics. The best known, Narcotics Anonymous, uses the 12-step procedures developed by Alcoholics Anonymous." There are also secular-based programs like Smart Recovery. These can be greatly beneficial to someone leaving treatment because they are flexible and can easily be planned into a daily schedule while also allowing individuals to stay reminded of their commitment to sobriety.
Little by little, you will begin to feel like yourself again. You will use the techniques you learned in OxyContin addiction rehab and begin to celebrate milestones in your sobriety. As you continue your recovery, you will begin to see how much your life has changed for the better.
The Time to Get Sober is Now
OxyContin abuse can be extremely harmful to the life of an individual, physically, mentally, and socially, and some people even experience life-threatening situations as a result. If any of these issues have happened to you, call our hotline and find out about rehab facilities in your area. If they have not, don't give them the chance to; make a change today.