Table of Contents
Opioid Rehab
According to the DEA's 2014 National Drug Threat Assessment "Opioid analgesics, or pain relievers, are the most common type of CPD (controlled prescription drug) abused." Along with heroin and methadone, these drugs make up a large portion of the worldwide burdens of opioid abuse, addiction, overdoses, and economic costs to society. For most opioid addicts, the initial pleasing and euphoric effects of the drugs become second place to staving off overwhelming cravings and painful withdrawals.
Opioid rehab uses effective and proven traditional treatment practices with a holistic approach to minimize the discomfort of opioid detox, optimize overall health, and improve treatment outcomes by focusing on the patient and not merely their opioid dependency. Just as addiction affects every aspect of individual's life, healing can be achieved in the same manner.
Don't Wait. Call Today To Get The Best Treatment Options
800-414-5013

Who Answers?
Types of Treatment (Inpatient vs. Outpatient)
Opioid addiction can be treated in both inpatient (residential) and outpatient opioid rehabs that vary in the levels and types of services they provide. As an outpatient, the individual must travel to the facility to attend sessions, sometimes, daily, and to receive other scheduled care services whereas an inpatient remains in the facility for the duration of treatment with access to care around the clock.
There are several other key differences between the two such as:
Inpatient rehabs may be more expensive than an outpatient rehab because food, lodging, amenities, a higher degree of staff involvements, specialized services, and other complementary offers are factored into the treatment costs.
Inpatient rehabs may have longer wait times to get in because of limited bed availability and longer patient stays.
Outpatient rehabs are the least restrictive allowing the patient to remain involved in their normal daily routines and the community without being under the constant supervision of inpatient treatment providers.
Outpatient rehabs typically have less resource availability in-house to deal effectively with crisis interventions and manage severe withdrawal complications or co-existing health problems. A brief inpatient stay may be necessary to stabilize the patient.
Traditional opioid rehab treatments involve detox (with or without medication assistance), counseling, education, medical and psychiatric referrals, cognitive behavioral therapies, 12-step group support, and after-care services. In a holistic rehab, treatment plans are tailored to meet the patient's needs to achieve positive balances in their physical, emotional, psychological, and spiritual health.
Benefits of Holistic Treatment
Because holistic treatments are custom-tailored to the unique needs of the individual, nurturing mind, body, and soul, healing comes more naturally. Research shows that many physical illnesses evolve from psychological and emotional imbalances and vice versa. Those who have a solid foundation of spiritual health to rely on when things get extra difficult are also better equipped to manage the long-term effects of opioids during their recovery.
While there are many avenues to the holistic healing process, nearly every opioid rehab patient can benefit from detox comfort and ease, proper nutrition, rest, relaxation, and exercise. Used in conjunction with traditional opioid rehab treatments, holistic therapy methods such as meditation, acupuncture, herbal, art, animal, music, and spiritual or religious prayers have proven beneficial to patients in one area of their life can flow over to the others areas to aid in their recovery. The benefits of holistic treatment may include:
Increased energy, motivations, strength, and stability
Reductions in anxiety, stress, depression, and other cognitive or emotional instabilities
Renewed awareness of self, morals, and values in life
Positive and healthy habits
Renewed confidence, self-esteem, and hope
Alternative remedies to pain and other health problems
Renewed relationships, trust, and better communication practices
Should I Choose Holistic Treatment? (Inpatient or Outpatient?)
Holistic treatment can be provided in an inpatient or outpatient setting. According to the NIDA, "Matching treatment settings, interventions, and services to an individual's particular problems and needs is critical to his or her ultimate success in returning to productive functioning in the family, workplace, and society." Individuals addicted to opioids typically display a complex mixture of co-existing health, behavioral, environmental, and social conditions that can influence their ability to succeed in an outpatient setting where they are more vulnerable to relapse every time they leave the facility.
Inpatient rehabs offer an atmosphere where the patient can focus on their recovery free from outside influential triggers that could cause them to use again. In a holistic rehab, complimentary or alternative therapies enhance the recovery progress and although some outpatient rehabs may provide services within their facilities, inpatient providers tend to make these treatments more accessible. These programs also offer the valuable time in treatment where counselors and therapists work together with other staff members to provide the highest levels of services 24 hours a day that would be recommended for those who:
Have chronic or severe opioid dependencies
Unstable medical or psychiatric conditions
Have a lack of safety or abstinence support in their home environments
Have repeat histories of relapse or prior unsuccessful treatment attempts
Are in need of intensified or specialized services
Would be able to commit to an extended time away from their family, work, or other obligations
How Long Will Opioid Rehab Take?
Depending on treatment goals, objectives, and dependency severities, opioid rehab can last from 2 – 12 weeks, but, there really are no set time limits. Opioid addictions are one of the most difficult addictions to recover from and people who try to take short cuts often end up worse than they were before with a high risk of overdose and death.
Detox is the main focus of programs lasting 30 days or less with inpatient programs having 30, 60, or 90 day program commitments. According to the NIDA, "Research indicates that most addicted individuals need at least 3 months in treatment to significantly reduce or stop their drug use and that the best outcomes occur with longer durations of treatment." Counseling and therapies may be ongoing for longer and for some, it may be necessary to transition to an extended residential treatment facility after formal treatment ends.
What to Expect in Opioid Rehab
In an opioid rehab, patients can expect:
Detox – Opioid addicts generally fear this part of treatment the most. Detox is the elimination of the opioids from the body which can bring about a large variety of painful and unpleasant symptoms including; nausea, vomiting, diarrhea, overall body pains and chills, cravings, insomnia, intense anxiety, and more. With the help of the holistic treatment providers, the severity of the symptoms can be minimized so the patient is able to complete the process in safe, comfortable, and controlled manner.
Therapy and healing – Counseling, therapies, and holistic treatment methods help patients learn to identify those areas in their life where change is needed and motivate those changes, develop coping skills and strategies to avoid relapse triggers, and make positive healthy choices a part of everyday life free from the use of drugs. According to Psych Central, "While you are responsible for making changes in your life, an effective counselor can help pinpoint the obstacles in your way."
Recovery – Encouraging treatment engagement and retention for the time it takes the patient to heal and develop healthy habits and relationships are elemental parts of holistic rehab. Some patients consider themselves in opioid recovery for years or even the remainders of their lives and the holistic practices they learn in opioid rehab remains a lifeline to their good health long after treatment is over.
What Does Opioid Rehab Cost? Is Insurance Accepted?
The cost of opioid rehab varies according to the treatment needs, services provided, facility, amenities, program, and duration. Some rehabs are more private, exclusive, or luxurious than others adding to the comfort of the patient, but, at a higher cost that can range from $1,000 to $5,000 a day or more.
Generally, an outpatient opioid rehab would be less expensive than an inpatient opioid rehab because they do not provide food, housing, or 24 hour access to care and professional staff member services. Outpatient opioid rehabs provide treatments on a daily, weekly, or monthly basis and may offer more group sessions that can lower the costs of an individual's treatment.
Many opioid rehabs offer payment plans and some may offset patient costs based on a sliding scale fee. Depending on facility administrators and their elections to participate in federal, local, or state funding and grants, many times, a patient's cost can be dramatically discounted. Both outpatient and inpatient opioid rehabs accept insurance, but, the insurance plans and types will vary by facility. It is best to check with your insurance provider and contact the facility directly as their payment options can frequently change.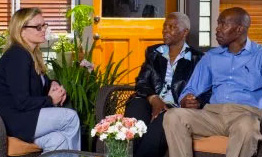 Call 800-414-5013 Today
Who Answers?
Where Should I Go for Help?
For an outpatient rehab program, you may want to consider a local facility to minimize travel and other costs for you and your family. Inpatient opioid rehabs that are close to you may not be as important because you will be remaining in the facility for a while. They can also be beneficial in getting you into a whole new atmosphere and prompting other changes in your life. There are many ways to find help including:
Contacting your doctor or local health care providers and hospitals
Contacting your insurance provider
Calling a rehab center
Asking family, friends, pastors, or community resource advocates for help
Getting information from local Alcoholics Anonymous or Narcotics Anonymous chapters
Visiting the SAMHSA's Substance Abuse Treatment Facility Locator at 1-800-662-HELP (4357) or http://findtreatment.samhsa.gov.
Once you make the choice to enter treatment, there are many resources you will discover that are willing to help. If someone that you love is ambivalent about going to treatment and continues to suffer from opioid addiction, you owe it to yourself to find out what treatment resources are available to you as well. A holistic rehab can be just what you need to let go of the stress.
Opioid Recovery- What Happens Next?
What happens next is up to you. Treatment should never be considered a negative event as so often it is stigmatized to be. Instead, it's the chance of a lifetime that many opioid addicts never discover in their daily struggles to prevent dope-sickness, deceiving themselves and their families along the way.
Are You Ready to Turn Your Life Around?
Getting honest with yourself and who you want to be can be the opening to a brand new world. Are you ready to turn your life around? Help is available, recovery is possible, and the time to decide is now.